Color
Information on Color printing
Submitted by Cheryl Otstott
August 27th, 2013
The Xerox Color 8250 Production Printer is a new production printer with a difference, it prints on plain cut sheet paper.  No coating required.  The printer is great for businesses that print variable data and transactional prints such as bills and invoices.
The machine has a print speed of 8,250 full process color letter 4/0 impressions per hour (137.5 per minute) that is fast.  If you are in the industry that uses this type of printer you know how fast that is and how that coupled with the plain paper ability can reduce your costs and increase your profits.
The Xerox Color 8250 can produce Books & Manuals, Direct Mail, Transactional Promotional documents.  Many of us may soon be receiving material in our mailboxes printed on the Xerox Color 8250 Production Printer.
Find out more about the printer by visiting the Xerox Color 8250 Production Printer.  There you will find videos, brochures and detailed specifications about the machine and contact information if you would like to know more.  The Xerox Color 8250 Production Printer comes  with Xerox FreeFlow Print.  The support pages will guide through How Tos and Troubleshooting on the machine.  You will also find the drivers and downloads at this site.
Below is a video with an introduction to this impressive production printer.  Take a look and imagine the possibilities.
Submitted by Cheryl Otstott
August 6th, 2013
The Xerox Wide Format IJP 2000 is a wide format printer that can produce a variety of jobs on multiple type of media.  These can be specialty jobs such as backlit/stoplight films to photo gloss.  The printer features water-resistant aqueous ink that provides full color beautiful products for a wide variety of uses.
The printer is capable of producing documents from 8.2" x 11" to a maximum of 98" x 42" and everything in-between.  The print speed is up to 4, 520 square feet per hour or 6 inches per second.   Just think of the applications, banners, posters, variable data advertising, and photos just to name a few.  The media types – bond, matte coated, satin, gloss, backlit film, stoplight film, tear resistant, adhesive, banner fabric, blueback, etc. – offer a plethora of options for almost any kind of job. 
The Xerox Wide Format IJP 2000 uses five fixed print heads to simultaneously jet four inks to print vibrant images in a single pass cutting print time substantially from printers that use multi-pass processes.  This allows you to create jobs in a fraction of the time of other large format printers. 
The printer has online support to help you with questions you may have about the printer and its features.  There is also a documentation tab that includes the user manual.  Check out the Xerox Wide Format IJP 2000 webpage and the brochure for further information.   It is a big printer with big flexibility and big support.
Submitted by Cheryl Otstott
July 16th, 2013
There is a new Color Printer in the family, the Xerox Color 570 printer.  This new printer has great features for many different applications and different types of business.  It is a multifunction device so it includes copy, scan, print and fax.  The Xerox Color 570 also produces high quality prints with vibrant color and up to 2400 x 2400 dpi resolution.  The printer is fast with print speeds of 70 pages per minute (ppm) color and up to 75 pages per minute black and white. 
The Xerox Color 570 Printer handles a wide variety of media.  Including up to 13." x 19.2" and 110 lb. coated or uncoated.  The printer can print on polyesters, vinyl, decals, and labels.  With the available finishers the printer can offer inline professional finishing options like, stapling, folding, hole-punching and face trimming.  With all this variability the types of documents you can produce are vast. 
Below is a video that introduces you to the Xerox Color 570/560 printers. 
The printer also has the support you have come to expect with online support for commonly asked questions and how to instructions for the features of the printer.  There is also documentation for the machine and drivers online at the support pages for the printer.  To find out more about the Xerox Color 570 Printer visit the webpage for the machine and / or read the brochure.  The printer is very versatile and can enhance your business processes.  Check it out and let us know if we can help you once you have one of these machines!
Submitted by Cheryl Otstott
April 2nd, 2013
Color By Words makes adjusting the color on your prints easy.  With Color by Words you use natural language to adjust and refine the color on your prints.  The Color by Words technology is part of more of our printers and multifunction devices.  Several of the latest products to have Color by Words.  The  feature can be seen in Phasers, WorkCentres and ColorQubes.  Using Color by Words allows you to adjust the color of the prints without affecting the original file. 
You can manipulate the color through the use of simple natural language instructions chosen from a few simple pull-down menus.  Here are samples of the menus:
As you can see you simply describe what you want the colors to do and the Xerox Printer will adjust accordingly.  It is really an amazing and intuitive way to adjust color. 
As an example I made an extreme change to the pictures below.  All I did was choose Change all green colors completely to purple there you have purple "green" bell peppers!  The changes can be major as in this example or they can be subtle or somewhere in between.  Try it for yourself and see how easy it is to make color changes without having to know all the technical ins and outs of color and color theory.
If you would like additional information about Color by Words explore the website, take a look at the brochure or go to the support pages for the machines that have Color by Words and search on "Color by Words".  Now here is a short video on Color by Words. 
Submitted by Cheryl Otstott
March 15th, 2013
Welcome to a short introduction to a couple of new products. Let's start with what you have learned to expect from me. There is an abundance of Support for these machines at the Online Support pages and of course phone support.  Now that we have gotten that said let's talk about the Xerox Color C75 and J75 Press.  These are production printers that provide great versatility.  There is a wide spectrum of media that can be used in the machines including photo applications papers, DocuMagnets and more.  There is also several finisher options that can take your printing to the next level. 
The Xerox Color J75 Press offers the inline Spectrophotometer providing the power of our Automated Color Quality Suite (ACQS) color management tools to improve color stability, accuracy and repeatability. With the spectrophotometer placed within the paper path, automated processes like color calibration and destination profiling automatically streamline workflow and boost productivity.
The Xerox Color C75 Press provides exceptional control over both alignment and registration with the Simple Image Quality Adjustment toolset. SIQA gives you automated registration control, assuring that jobs meet the most exacting standards. And SIQA's SMILE correction process lets you adjust density uniformity, giving accurate color edge-to-edge and page-to-page.
Check out the brochures for the Xerox Color J75 Press and the Xerox Color C75 Press.  Also take a look at the web pages for the Xerox Color J75 Press and the Xerox Color C75 Press.  You will find all the information you need about the features and functions of both of these machines. 
Below is the video for the Xerox Color J75 and here is the link to the Xerox Color C75 video.
Remember if you have a question or issue with any of your Xerox equipment we have support on the Support pages or the Xerox Customer Support Community.
Submitted by Cheryl Otstott
February 15th, 2013
New machines have been added to our Production line.  The Xerox CiPress 500 and the Xerox CiPress 325 Production Inkjet System use waterless ink technology to produce vibrant color on low cost plain paper.  Last time we talked about solid ink now we have waterless ink!  Will wonders never cease!  The waterless inks are dry granules that feed easily and melt quickly. The granules are easy to store and refill, you can even refill on the fly.  The ink dispensing drums are permanent fixtures and therefore do not require recycling.  The drums are refilled using easy to handle 10 kilo (~22 lb) containers.  Storage is no problem because the waterless inks have no restrictions on shelf-life. 
Take a look at the video below for information on the CiPress and the waterless ink. 
So why is waterless the way to go?  The key benefit is the elimination of water so that vibrant, consistent color can be printed on low-cost, offset paper that comes out flat with no ink soaking through.  The waterless ink also has the highest de-inkability rating from the International Association of the Deinking Industry (INGEDE).   What is de-inkability?  That means that deinking  is easier letting the printed paper be recycled.  Deinking is the key process in paper recycling. Hydrophobic (water-repellent) ink particles are separated from hydrophilic (water-wettable) fibers.  Deinking is not fully possible with most water based inks so the dyes and ink particles too small to be removed have no other exit during the recycling process than the fibers. The dyes and ink particles stain the recycled material just as red socks dye the underwear in the washing machine. This can cause recycled paper to look drab and not bright white.  This is an issue recyclers have been struggling with for over 20 years.  But this is not an issue with the Xerox waterless ink. 
What else will you find with the new Xerox CiPress 500 and the Xerox CiPress 325?  The machines have an intelligent system that continuously monitors every page it produces and self-adjusts if an ink nozzle isn't firing properly. There's more uptime and less operator involvement to maintain performance.
The product was developed using more than 2,000 patents leading to a robust print head design.  There are 56 durable piezo-electric, drop-on-demand print heads with more than 49,000 nozzles jetting nearly two billion ink drops per second. Each drop hits the paper with precise pixel placement.  An intelligent scan bar checks billions of ink droplets per second so they appear exactly where they should as the printer produces more than 2,000 color images per minute on the CiPress 500 and more than 1300 color images per minutes on the CiPress 325.  These are great products, make sure review all the information available on the product pages including a video tour, to find out all the features and advantages of these machines.
Submitted by Cheryl Otstott
February 12th, 2013
Once upon a time there was Solid Ink… Solid Ink isn't that an oxymoron?  I mean either it is solid or it is ink… Oh well let's take a look at these big crayons.  That is what they are big blocks of resin-based non-toxic color that are melted in the printer and affixed to the paper through heat and pressure.  They create a great image.  Printers that use solid ink require no special paper and the prints do not curl or wrinkle like other color laser or inkjet printers. 
The technology has been around since 1991, the last century!!  But in the recent past the technology and the ink formulas have been refined.  The solid ink generates 90% less waste than comparable color laser printers.  So let's take a look at how the ink gets to the paper.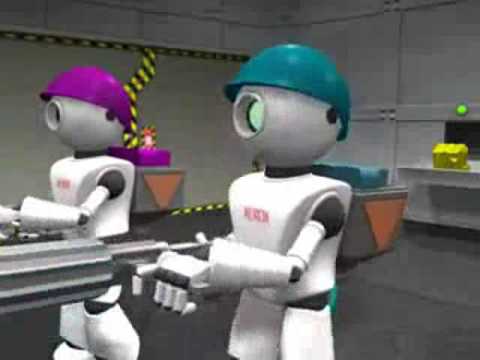 Okay so there are no little guys with paintball guns in your printer but there is a precise stainless steel print head with tiny holes smaller than a human hair.  It uses 1,236 nozzles jetting more than 30 million drops per second.  The ink is jetted from the print head to a heated drum and then is pressed onto the paper.   Due to this process less ink wicks into the paper fibers and that controls dot spread, allowing for a crisper looking image.   The image on the left below is the magnified image from a Color laser printer, the image on the right is solid ink.
Solid ink is fast, precise, and less expensive.  Print speeds can reach 30-85 pages per minute.  To find out even more about solid ink and the machines that use them please watch the informative video below and then explore the Solid Ink website.